Our services

Rent
Are you looking for a new home and would you like to rent something? Then Border Estate+ will be happy to help you further in your search for a living space entirely according to your wishes. We regularly update our website, so it is always up to date with the latest accommodations.
If you have seen a property you are interested in, you can always contact us. We will be happy to show you the accommodation during a viewing!
Rental and management
Are you a property owner and would you like to outsource the rental and management of the property without worries? Then Border Estate+ can help you!
As a property manager we are the daily point of contact for tenants and property owners. We check properties periodically, so that you as the owner do not have to worry about the property.
We think it is important that defects and malfunctions are resolved as quickly and effectively as possible and that tenants are satisfied.
Sale
Are you looking for an investment property or would you like to sell your investment property? Then Border Estate will be happy to help you.
We always want to offer you the best service. Border Estate's focus on real estate investments in Maastricht provides experience, expertise and efficiency.
Our offers
Are you an owner of an investment property and would you like to outsource the rental and/or management? Then Border Estate+ is happy to help you!
Here you will find a complete overview of our offers.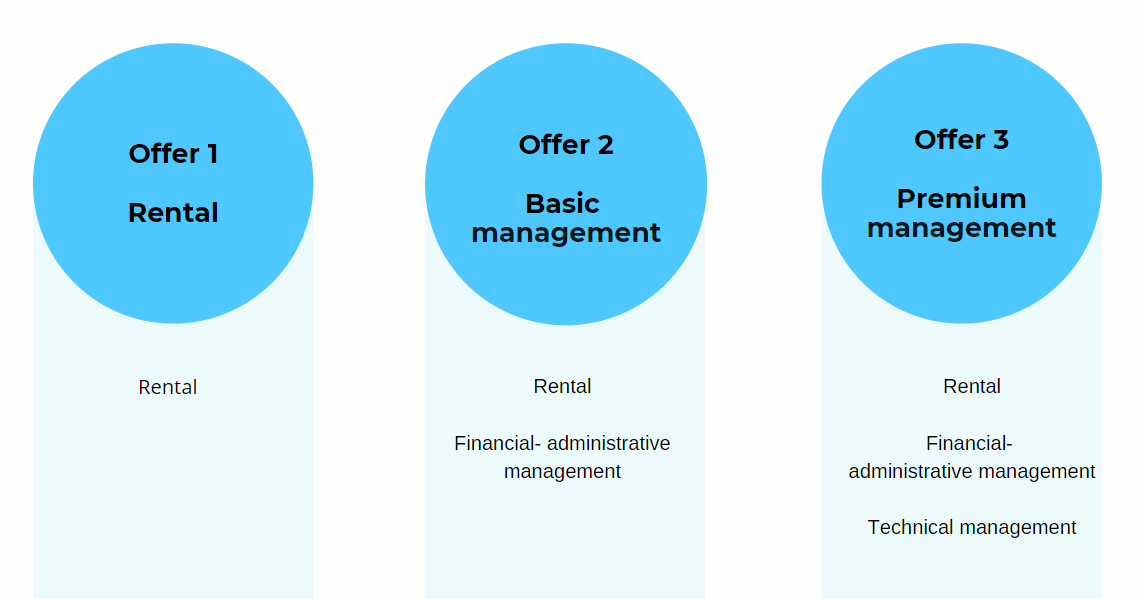 Offer 1: Rental
The rental offer contains the complete rental process of your accommodations. The rental process starts with the tenant's notice and ends when a new tenant has received the key to the accommodation and a check-in has taken place.
When a property becomes available, the rental process begins with the taking of photos and videos of the property. With these photos and videos, Border Estate+ makes visual material to promote the property through social media. In addition, the photos and a possible video will be placed on the website of Border Estate+. If necessary, other media channels & rental sites will also be used.

Next, during the "rental process" a number of viewings are planned in which a suitable candidate is carefully searched for. In addition, social media is actively used to promote the accommodation. If there is an interested potential tenant, Border Estate+ asks to send an e-mail with the necessary details to draw up a rental contract. Border Estate+ will then take care of the handling of the rental contract.
Once the rental contract has been signed, Border Estate+ plans an appointment with the new tenant for the check-in. During the check-in, a full report will be made of the current state of the accommodation.

In offer 1, Border Estate+ does not take care of management, so the following contact between the tenant and Border Estate+ will only follow again when the tenant leaves his accommodation. Border Estate+ then makes an appointment with the tenant for the check-out and makes a full report on the condition of the accommodation.
As a property owner, you will receive both the check-in report and the check-out report. In this way you can easily compare the begin and end state of the accommodation and decide whether the tenant will get his deposit back.
Do you opt for this offer? Then all your worries about the entire rental process are taken out of your hands!

Offer 2: Basic management
With the basic management offer we first take care of the complete rental process as mentioned in offer 1. Besides the complete rental process, we also take care of the financial and administrative management. In this offer, the rental flow is closely monitored through our software system so that the tenants meet their monthly payment obligations. When it appears that a tenant has an arrears or rent debt, we will deal with this in a professional way.
Do you opt for this package? Then you no longer have to worry about the rental and financial and administrative management of your property!

Offer 3: Premium management
In the premium management offer, we take care of the entire rental process as mentioned in package 1. In addition to the rental process and the financial and administrative management, in offer 3 also the technical management is taken care of by Border Estate+. When we take care of the technical management of your property, we will check your property periodically. This includes any defects of the property, fire safety requirements, the condition of the property, garbage and hygiene, maintenance, etc. If one of your tenants has any problems or questions, we are always ready to help your tenant. Small defects will be solved immediately by one of our reliable suppliers. Should larger defects appear, we will of course first contact you to discuss the possibilities.

Do you opt for this package? Then we take all your worries out of your hands!